Cycling Chambers
H.E.S.T. 8420 & 8420A
15ºC – 20ºC PER MINUTE LINEAR
THE GOAL: ZERO DEFECTS
Linear ramp rates, high volume and air velocity are critical to effective testing.
THE REALITY: LATENT DEFECTS
Our model 8420 Strife Testing System may be your most cost-effective solution for detecting and eliminating latent defects saving you and your customer time, and saving you huge sums.
THE SOLUTION: HARRIS
The 8420 powerhouse delivers maximum results. A 9000 CFM air circulator with velocities in excess of 100 LFM over product and ramp rates of 15ºC to 20ºC per minute, linear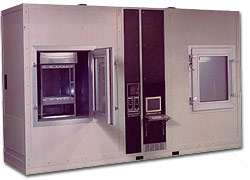 Our Systems are designed to meet your requirements for quick and efficient and reliable stress testing. Our unique high volume airflow design guarantees optimum thermal stress at high and low temperatures. Cooling and heating ramp rates can be clearly configured to allow maximum stress for even hard to test devices. Modulating refrigeration valve with time proportioning solid-state relays utilizing state of the art programmable microprocessor controls to produce optimum temperature equilibrium at any point in the specified temperature range.
HARRIS ENVIRONMENTAL STRESS TESTING
Air Circulator: 9000 CFM
Programmable Controller with RS 442/485 Communications.
Full Vision panel: Tempered Safety Glass (optional)
Refrigeration Coil.
Resistance Heaters.
Insulated Cable Ports.
Test Fixture: Fully Adjustable from a 3" high P.C.B.'s (optional)
Mechanical Refrigeration Section: Remote Location Optional.
200 Amp/460 V Electrical Enclosure.
Specifications*
Temperature Range
**-30ºC to +100ºC
Ramp Rate
**15ºC to 20ºC per minute linear, ±2ºC from +100ºC to –10ºC
Air Circulator
5 HP at 9000 CFM ;and a vertical air flow in excess of 1000 L.F.M. over units under test
Interior Work Space
36" x 36" I.D.
Door Size
36" x 36" C.O. (Full Vision Tempered Safety Class Optional)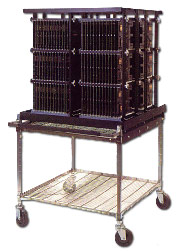 Model #5005 Fixture (Optional)
Cardguides are adjustable to any size P.C.B.'s or Module. Maximum capacity of 416 – 6" x 8" boards (or equivalent) on 1" centers. Fixtures are loaded into the chambers from a fixture transporter.
Power Requirements
460-380/3∆/50-60Hz./200 amp. (8420 only)
460-380/3∆/50-60 Hz./200 amp. (8420A only)
Refrigerant
CFC Free
Condenser Cooling
Air cooled condenser, evaporative condenser, plant chilled water or cooling tower.
CUSTOM DESIGN APPLICATIONS WELCOMED